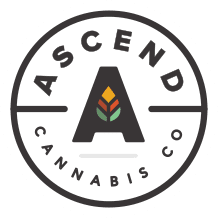 Products:
Accessories
,
Cartridges
,
CBD Products
,
Concentrates
,
Edibles
,
Flowers
,
Hybrid
,
Indica
,
Medical
,
Merchandise
,
Patches
,
Prerolls
,
Rosin
,
Sativa
,
Shatter
,
Tinctures
,
Topicals
,
Vape
, and
Wax
Product Notice:
Please call ahead to be sure that the product and brand you are looking for is available.
Street Address:
10712 West Alameda Avenue
Lakewood
Colorado
80226
This is a recreational and medical dispensary located at 10712 West Alameda Ave., Lakewood, Colorado.  If you are heading west on 6th avenue, go south on South Kipling Street. Take South Kipling one mile to West Alameda Ave.  Turn left onto South Oak Street.   Take the 1st cross street onto W Alameda Ave/W Alameda Frontage Rd.  You will see Ascend Cannabis Co. on your right.
At Ascend Cannabis, 99% of their nutrients are plant or mineral based and completely free of animal products.  They pride themselves on garden growing in a greenhouse using the beautiful Colorado sun to power most of what they do. That means 35% less coal power than an indoor grow.  They use a special no-till soil system that uses no bottled nutrients, and constantly reuses and recycles soil and even creates its own worm castings. It's 100% free of all synthetic products.  The result of their growing process, they produce nutrient and terpene rich cannabis with higher levels of potency and THC.  There are no harmful chemicals or pesticides used in their growing process.
Ascend Cannabis Co. offers a convenient option to order ahead online for easy pick-up.  They do Coda Signature, Betty, SUM, Infinite Infusions, WYLD and Wana Edibles.  They also carry their own Ascend Cannabis brand.
Bundle discounts are available.
This is a medical and recreational dispensary located at 11950 W Colfax Ave, Denver, Colorado.  If you are heading West on Colfax, Ajoya is about one mile west of Kipling Street.  It will be on the left side of the street. The name, Ajoya, is a combination of the Esperanto
Read more...